Saturday Morning StrollerStrides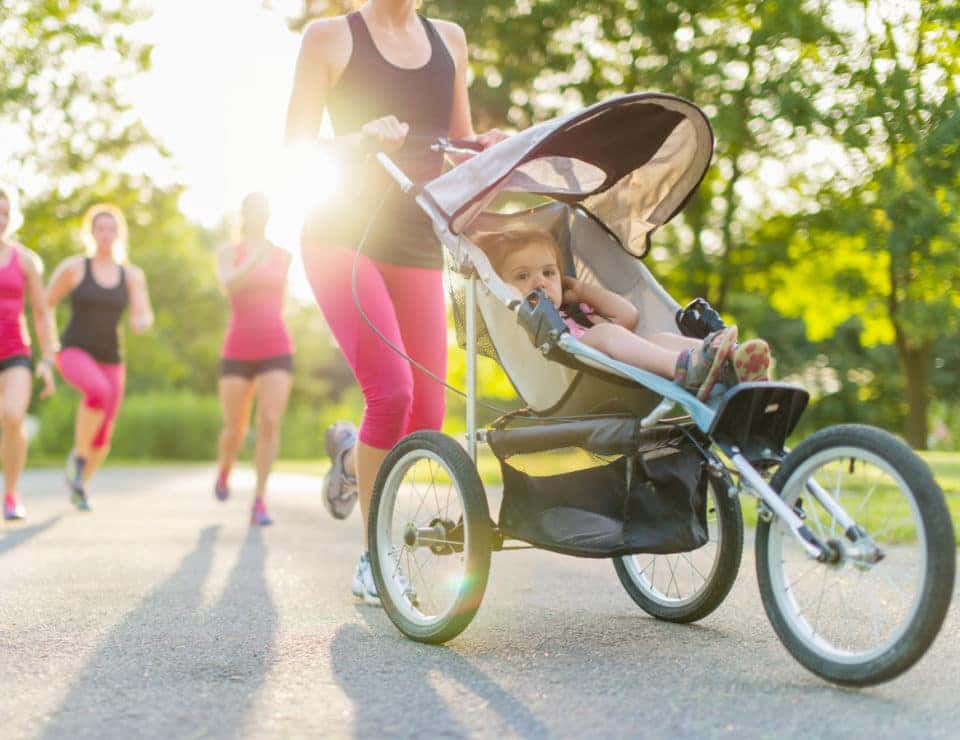 It can be difficult to balance the demands of being a mom with the need and desire to maintain – or begin – a fitness routine. Saturday Morning StrollerStrides might be just the solution! This total fitness program allows moms to get their exercise on – with their babies along for the ride. More than just a great alternative to gym childcare facilities, StrollerStrides serve to engage mother and child alike – and they're happening now, every Saturday morning through December 29 in Tysons Corner.
Stroll Your Way to Fitness
StrollerStrides combine power walking and jogging strength training intervals using strollers, exercise tubing, and your surroundings. Led by certified fitness instructors who have specialty training with pre- and post-natal women, StrollerStrides are suitable for exercisers at any level of fitness.
It's not just fun for mom, either; songs and activities incorporated into the routine are designed to entertain baby while the grownups engage in a series of full-body exercises.
You can sign up online for the Saturday classes, which are held weekly from 9 to 10 a.m.
Fitting in Fitness
You don't have to let fitness slide just because your new addition doesn't leave you much time to exercise. In addition to classes like StrollerStrides, there are other ways to incorporate baby into workout time, or just to find a few extra minutes in the day for quick bursts of activity. For example:
Use a front carrier, sling, or baby backpack and take a walk around the neighborhood with baby's weight serving as a little extra strength training.
Invest in some home exercise equipment for use when the baby is napping or playing nearby.
Use exercise DVDs, smartphone apps, or free online videos that you can do in the comfort of your own living room.
Use your lunch break to up your step count by taking a brisk walk around the office.
Hit the gym when your partner or another caregiver can watch the baby for you.
You might also like: Shop At These Boutiques In Tysons Corner
Stroll Over to Maserati of Tysons
What new mom couldn't use a little luxury in her life? Maserati of Tysons has just the thing. With our array of brand-new Maserati models including the Ghibli, the GranTurismo, and the Levante as well as a selection of high-quality pre-owned vehicles from the likes of Alfa Romeo, BMW, and Mercedes Benz, there is something here to suit even the most discriminating taste. Visit us today and discover what it means to take luxury on the road.